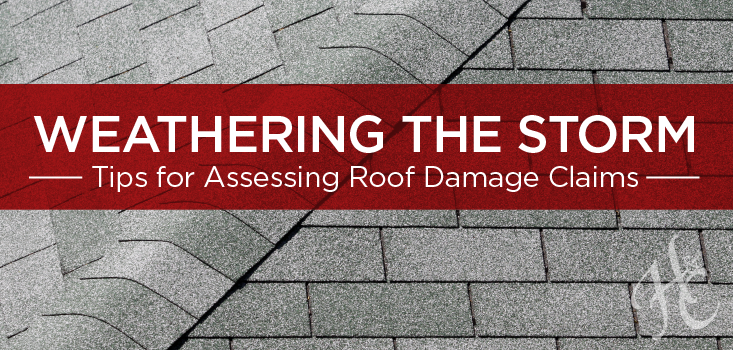 Did you know that the U.S. averages 10,000 thunderstorms and 1,300 tornadoes per year? Many Americans, especially those in the Central and Southern U.S., are no stranger to summer's severe weather. These storms often come with strong hail and winds, resulting in property damage and insurance claims, especially for roofs. Take a look at what we've seen so far in 2016, as well as a breakdown of the different types of roof damage.
Extreme Storms, Temperatures Plague U.S. in 2016
According to the National Oceanic and Atmospheric Administration (NOAA), here are a few of the weather trends we saw over the past few months in the U.S.:
The first six months of this year averaged 50.8 degrees Fahrenheit, the third warmest period on record.
Alaska averaged a stunning nine degrees above average last month.
June averaged just 2.46" of precipitation nationally, almost .5" below the normal average.
Major storms across the U.S. have caused a record amount of weather-related damages. This year alone, there have been eight severe weather events with over $1 billion in damages each, totaling $13.1 billion. This number already exceeds the total for 2015 and does not yet include the significant flooding in West Virginia at the end of June.
Tips for Assessing Roof Damage Claims
With such an increase in extreme weather, you may not be surprised to see an increase in weather-related insurance claims, specifically for roofs. Even the newest and sturdiest roofs have limits on how much high wind and hail impact they can sustain. Hail damage alone costs almost $1 billion per year in claims. When you're assessing roof damage, it's important to be able to distinguish between weather-related damage, natural wear and tear and other causes.
---
TYPES OF ROOF DAMAGE
Functional Wind Damage:
The standard asphalt shingle has a wind rating of 60 mph. No matter the shingle, sustained winds in excess of the manufacturer rating for one minute or longer will result in distress. If the shingle is aged or improperly installed, lower wind speeds may still cause distress.
Making sure shingles are properly bonded during installation is crucial. If it is poorly bonded, wind can lift a section of shingles, and will gradually cause remaining sections to fail.
Functional Hail Damage:
Hail damage can look different based on the part of the country you live in. For example, if hail is accompanied by rain (Midwest and East Coast), the rain cools the roof, making the shingles more likely to loosen or displace granules. If hail does not come with rain (West Coast), the shingles will be softer, thus causing more granules to embed.

Hail often causes bruises or fractures in shingles. Bruises are identified by soft dimples and are indicative of a partial fracture at the bottom of the shingle surface. Complete fractures are visible at the top of the surface and spread to the bottom of the shingle.
---
Blisters are often mistaken for hail damage, but are not caused by weather. Instead, blisters are defects usually seen on new roofs from expanding volatile gasses escaping from the asphalt. How can you tell the difference? Hail strikes leave shallow indentions with granules still visible. Blisters leave pits with steep edges and no granules present.
---
OTHER CAUSES OF ROOF DAMAGE
Intentional Damage: Many claims adjusters and roofing experts will see evidence of intentional damage on roofs from people trying to make fraudulent claims. Some of the tools used to create fraudulent damage are: ball-peen hammers, golf balls, coins, and the claw ends of hammers. Intentional damage on roofs will often be too similar and too deep compared to natural hail damage.
Non-Intentional Damage: Many construction workers carry around tool belts than can inadvertently cause damage to roofs. Knives and screwdrivers are known for causing cuts and gashes to shingles. This type of damage is most often seen around mounted air conditioners or satellite dishes.
---
As weather patterns become more extreme and the impact of storms becomes greater, the rate of claims on roofs is sure to increase. It's important to thoroughly evaluate roof claims for damage. Often, what is seemingly hail or wind damage may be caused by manufacturing defects, fraud, or other repair work on the roof, so it's important to know how to distinguish between the different types.
---
The information provided in this article is for informational purposes only. Hausch & Company is committed to providing the most accurate data but we do not warrant the reliability of the data, and we assume no liability in connection with any of the information included.
Sources: National Oceanic and Atmospheric Administration (NOAA), The Weather Channel, Nelson Forensics, InterNACHI