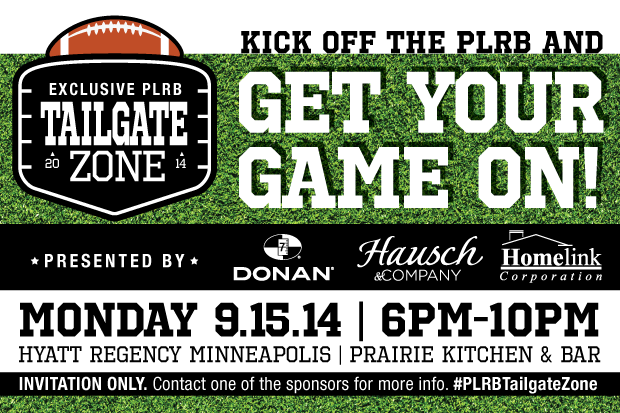 We are very excited to be joining forces once again with Donan and Homelink Corporation at the PLRB Central Regional Adjusters Conference in Minneapolis!
On Monday, September 15th, we are transforming the Prairie Kitchen & Bar in the Hyatt Regency into our EXCLUSIVE TAILGATE ZONE PARTY, complete with tailgating games, complimentary food and beverages.

Whether it's throwing a football, chipping a golf ball or tossing a bag, all guests will be able to test their tailgating game skills for a chance to win prizes.

What guests can expect:

6-7pm: Social Hour with Dinner Buffet


7-8pm: Tailgating Games – Play for Your Chance to Win (3 different games presented by your hosts)

7:30-9pm: Tailgating Food for Monday Night Football

8:30pm: Early RSVP Drawing (must be present to win)

9pm: Get Your Game On Drawing (must be present to win)

9-10pm: Social Hour
With well over 100 guests already registered, we know this party is going to be a blast! Get your game face on starting at 6pm Monday night!