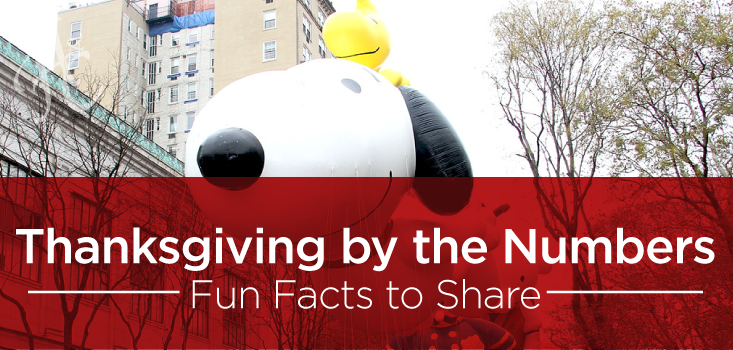 Have you ever wondered how many pounds of turkey are consumed in America on Thanksgiving? We've compiled some interesting Thanksgiving facts for you to share…
Thanksgiving Day Parade Facts


The first Macy's Thanksgiving Day Parade took place in New York City in 1924 and was originally known as Macy's Christmas Parade—to signify the launch of the Christmas shopping season.
In 1927, the first giant hot air balloons for the Macy's Thanksgiving Day Parade was designed by Tony Sarg, a children's book illustrator and puppeteer.
Snoopy has appeared as a giant balloon in the Macy's Thanksgiving Day Parade more times than any other character in history. This year marks the character's 39th time in the parade.
Approximately 3 million people attend the annual parade and another 50 million watch it on television.

 
Thanksgiving Feast Facts


The average American might consume 4,500 calories on Thanksgiving.
They estimate the holiday dinner alone can carry a load of 3,000 calories.
And many nibble through another 1,500 calories, downing appetizers and drinks before and after the big meal.

Turkey Facts


Approximately 46 million turkeys are consumed during Thanksgiving. That's about 736 million pounds of turkey!
The average Thanksgiving turkey is 16 pounds.
Pumpkin Pie Facts


According to the Guinness Book of World Records, the largest pumpkin pie ever baked weighed 2,020 pounds and measured just over 12 feet long. It was baked on October 8, 2005 by the New Bremen Giant Pumpkin Growers in Ohio, and included 900 pounds of pumpkin, 62 gallons of evaporated milk, 155 dozen eggs, 300 pounds of sugar, 3.5 pounds of salt, 7 pounds of cinnamon, 2 pounds of pumpkin spice and 250 pounds of crust.
Fifty million pumpkin pies are eaten at Thanksgiving — of which one million are sold at Costco. 
Pumpkin is the Thanksgiving favorite, but Apple pie is America's year-round top seller.
Sources: Macy's, Calorie Control Council, National Turkey Federation, Guinness Book of World Records, and AllSpice.com