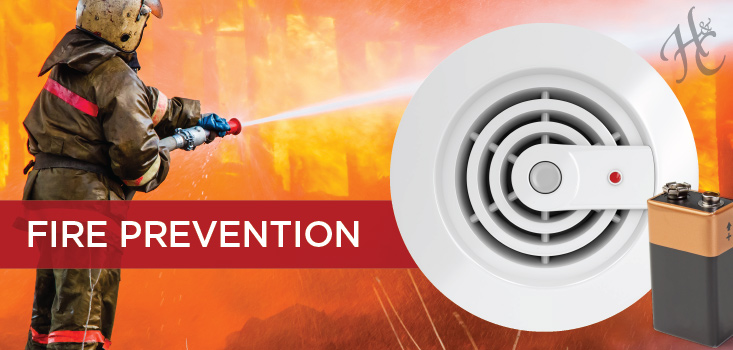 It's Fire Prevention Week!
Every year in the month October, The National Fire Protection Association (NFPA) designates a week to promote fire prevention in observance of the Great Chicago Fire that tragically killed more than 250 people, destroyed over 17,400 structures, burned more than 2,000 acres, and took 2 days to put out. The historic fire began on October 8, 1871 and continues to be a reminder of the importance of fire prevention.
Did you know that in the United States during 2014…*
A structure fire was reported every 64 seconds
One home structure fire was reported every 85 seconds
One civilian fire injury was reported every 33 minutes
One civilian fire death occurred every 2 hours and 41 minutes
One outside fire was reported every 52 seconds
These statistics alone prove that fire prevention is a serious topic and something that everyone should do in order to keep their homes and families safe. Smoke alarms save lives, and according to the NFPA, having a working smoke alarm cuts the chances of dying in a reported fire in half.
The key message of the 2015 Fire Prevention Week Campaign is to install smoke alarms in every bedroom, outside each separate sleeping area, and on every level of your home. This includes the basement.

Reproduced from NFPA's Fire Prevention Week website, www.firepreventionweek.org. © 2015 NFPA.
What else can you do?
Test your smoke alarms each month.
Replace the batteries in your smoke alarms twice a year. A good reminder is to time it up with Daylight Savings time changes.
Replace all smoke alarms in your home every 10 years.
Don't install smoke alarms near windows, doors, or ducts where drafts might be present.
Interconnect all your smoke alarms by using hard-wiring or wireless technology for the best protection.
On levels in your home without bedrooms, install alarms near the stairway to the upper level.
Install alarms at least 10 feet from a cooking appliance to minimize false alarms when cooking.
Mount smoke alarms high on walls or ceilings since smoke rises.
Having properly installed and maintained smoke alarms in your home is one of the most important steps to ensuring the safety of your family and property. We urge you to check your smoke alarms this week and replace the batteries during Daylight Savings on November 1st.
The information provided in this article is for informational purposes only. Hausch & Company is committed to providing the most accurate data but we do not warrant the reliability of the data, and we assume no liability in connection with any of the information included.
*NFPA 2014-2015 stats