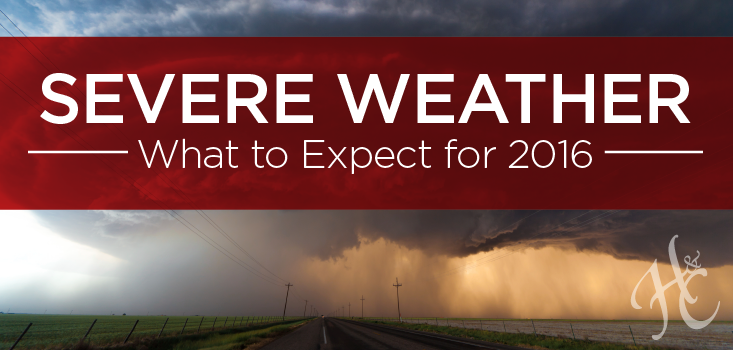 Storms are an expected part of spring and summer weather for most of the United States. When those storms turn severe, high winds, hail, and tornados can often wreak havoc. Even though storms are a normal part of weather in the US, you may have noticed that 2015 had some strange and extreme weather. What caused this and can we expect the same in 2016?
Severe Weather in 2015
The total number of severe storms in 2015 increased by 3% from 2014 to 19,172. However, this number is actually down significantly since 2011, which saw almost 30,000 reports of severe weather.
According to the National Oceanic and Atmospheric Administration (NOAA), here is a glimpse at some of the severe weather trends we saw in 2015:
June and July were the most active months for severe weather. June had 4,997 instances of severe weather, while July had 3,905.
Texas and Kansas saw the most severe weather of all 50 states. Most of Kansas' severe storms involved hail, while Texas' involved high winds. Both states also ranked highest for tornados.
Illinois has the highest rate of severe weather among the Great Lakes region, with 619 storms reported.
Delaware only reported 20 severe storms, the least amount of the 48 contiguous states.
July 13th was the most active severe weather day in 2015, with 523 reports of severe weather.
The Effects of El Niño
Despite a decrease in the number of severe storms over the past few years, 2015 saw more extreme weather thanks to a super-sized El Niño. In the US, we had tornados across the Plains in November; a warm and snowless December in the Northeast; and extreme flooding across drought-stricken Texas and Southern California.
El Niño Southern Oscillation (ENSO), or El Niño, is a patch of warm water in the Eastern and Central Pacific Ocean that forms near the equator and pushes warm currents around the Pacific Ocean. Eventually, these warm currents also increase air temperatures. Ultimately, El Niño triggers disruptions in precipitation, temperature and winds, causing global side effects like the extreme storms we've been seeing in the US.
What Can We Expect in 2016?
Puxatawney Phil, the famous weather-predicting groundhog, didn't see his shadow this year, which means spring will be on its way earlier than normal.
Meteorologists are in agreement with the groundhog thanks to the lingering El Niño. According to NOAA, here's what we can expect for the upcoming spring and summer:
El Niño weather will continue into spring, bringing more needed moisture to the West and Southwest regions. This will also result in increased temperatures across the nation during the summer.
The Great Lakes and Ohio Valley regions will experience early summer-like conditions and a possible drought.
Springtime severe weather will expand from Texas up through the Central Plains region.
Severe Weather Hits Early in Illinois
Accuweather predicts that severe spring weather won't be widespread until April, but parts of Illinois, Iowa, and Missouri recently saw early severe weather. On March 15th, a storm system brought tornados, high winds, and baseball-sized hail to the region, causing damage to homes and trees. One EF2 tornado touched down near Moline, IL, and damaged more than 40 homes. Take a closer look at how the storms impacted the region on the NOAA's Interactive Storm Report.
Unfortunately, our region is no stranger to these kinds of storms. When severe weather hits close to home, we understand what our clients and policyholders are going through. Whether it's flooding, hail damage, or wind damage, our staff adjusters can simplify the claims process and serve as an extension of your team. We're here to offer swift claim resolution so everyone involved can weather the storm more easily.
Sources: PBS, NOAA, The Weather Channel, Accuweather