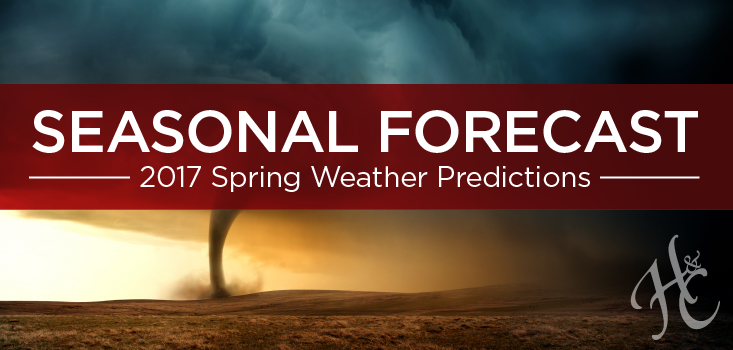 Severe weather throughout the Midwest and weather forecast predictions for spring and summer.
We all know by now that the weather is unpredictable and can change on a dime. The recent outbreak of tornadoes that wreaked havoc throughout the Midwest these past two weeks is heavy on our hearts and minds. With more than 20 deaths reported from tornadoes this year, 2017 has been the deadliest start for tornadoes in the past nine years, according to The Weather Channel.
As we are shifting from a somewhat mild winter into the spring, the Climate Prediction Center (CPC) was projecting that neutral conditions are expected to continue over the next few months, but these events in the past two weeks are a reminder of how quickly the weather and seasons can change. 
Since the upcoming tornado season has already begun, experts are looking at the recent El Niño activity to be a good indicator for what's to come. The NOAA's Climate Prediction Center (CPC) and the International Research Institute for Climate and Society (IRI) show better odds for El Niño than La Niña for the spring and summer season. During El Niño events, the frequency of U.S. tornadoes typically drops. When a La Niña phase prevails, tornado frequency goes up according to IRI. The NOAA Storm Prediction Center reported that 2016 delivered an estimated 888 reported tornadoes, making it the lowest number of tornadoes for any year going back to at least 1954. Based on El Niño, that trend could continue into 2017, however the first two months of the year are certainly going against that trend.
---
| | |
| --- | --- |
| | When researching the path of recent storms and tornadoes, adjusters can visit the NOAA Storm Prediction Center to see storm reports for current and past dates. Simply enter the date (Year-Month-Day) and click "Get Data" to gain further insight on weather and what areas may be affected with claims. As an example, click here to view the Storm Reports for this past Monday, March 6 and here for the outbreak on February 27. For more detailed descriptions of the reported events for that day, click on the link for "Google Map" next to "Unfiltered Reports". The Google Map will allow you to zoom on a particular area and read reported details. |
---
With unexpected storms and events that are out of our control, knowing some basic safety tips can make a difference in order to keep both you and your loved ones safe during a tornado. The following tornado safety tips are recommended by the SPC: 
During a tornado watch or warning, always go to the most interior and lowest room wherever you are.
If there is not a basement or storm shelter available, get to a room in the center of a building, preferably under a stairwell or in a bathroom. 
Stay away from all windows and try to find sturdy protection to put over you such as a mattress, heavy table or workbench. 
Once the storm passes, still proceed with caution.
Stay away from power lines and puddles with wires in them as they may still be carrying electricity. 
Wear sturdy protective boots or shoes and watch your step to avoid broken glass, nails, and other sharp objects.
Do not go into any heavily damaged houses or buildings.
Do not use matches or lighters, in case of leaking natural gas pipes or fuel tanks nearby.
As unreliable as the weather can be, being armed with the tools you need and people to help can make all the difference when researching and expediting weather-related claims. With a presence throughout the Midwest, including Chicago, the Quad Cities, Des Moines, St. Louis, Kansas City and Omaha, Hausch & Company is dedicated to simplifying your needs by getting boots on the ground anywhere and anytime you need us.