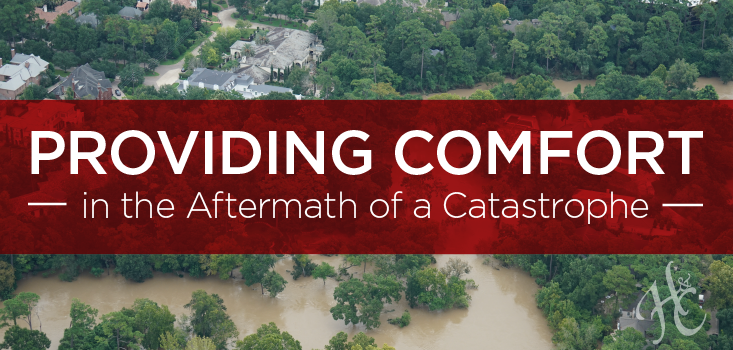 One of the hardest parts of an adjuster's job is witnessing devastation first-hand. While on-the-job training that prepares claims professionals to process claims is a necessity, preparing these same professionals to deal with the personal and emotional havoc that results from natural disasters is also key. Hausch & Company has always believed that compassion is of the utmost importance and is what sets us apart.    
Hausch & Company was featured in a recent Chicago Tribune article discussing how we are not only responsible for handling the property aspect of claims in the hardest hit areas, but also for providing comfort to the insureds through interpersonal skills. In times of catastrophes, emotions run high. The tone, demeanor, and attitude of the adjuster can make all the difference when working with people who are unsettled and upset.  
According to National Underwriter Property & Casualty, 75% of people who part ways with an insurance company do so because of the treatment received during the claims process.  Therefore, listening for accuracy and showing compassion to the policyholder makes them feel confident that they have chosen the right company to take care of them and handle their claim thoroughly. 
The past few months have been a very trying, yet telling time for the insurance industry with the extreme losses that residents of Texas and Florida are coping with as Hurricanes Harvey and Irma ripped through their states. These storms left behind insured losses of more than $10 billion from Harvey and between $25-$35 billion from Irma.* 
Even though our offices are not located near the affected areas, Hausch & Company adjusters have traveled to Texas and Florida over the past month to help those in need and to expedite their claims. As CEO of Hausch & Company, David Hausch realizes the sacrifice that these adjusters have made to be there.
"There is an increasing demand for adjusters to assess the damage in both Texas and Florida, and I would like to personally thank our adjusters that have spent time in these areas for their dedication and willingness to go above and beyond to help those who need it the most right now. We greatly appreciate their efforts to expedite hurricane claims so that those affected can start rebuilding their lives as soon as possible."
Providing comfort in the aftermath of catastrophic events not only helps move a claim forward more quickly, but also eases the emotional turmoil of the policyholder. Adjusters have a powerful job, and when claims are handled with empathy as well as attention to detail, the outcome can be truly rewarding.
---
*AIR, a Boston-based catastrophe modeling firm