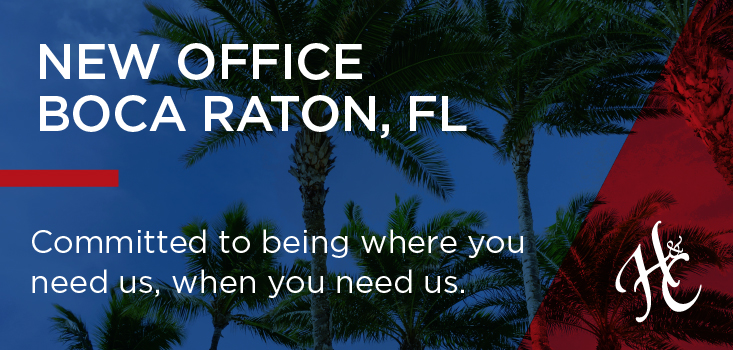 ELGIN, IL (November 7, 2018) – Hausch & Company, A leading provider of property and casualty loss adjusting and claims management services in North America, has recently opened a new office in Boca Raton, Florida. The seventh regional field office for Hausch & Company, in addition to their corporate headquarters in Illinois.
A Boca Raton, Florida location allows us to serve Miami, Fort Lauderdale, West Palm Beach, and Naples. It is perfectly situated for serving a large portion of South and Central Florida. The new office provides additional opportunities for Hausch & Company to serve new locations and markets that are in need as well as accelerate the company's growth strategy.
The new location will be led by Paul LaMantia, a seasoned Hausch & Company adjuster with extensive knowledge of commercial and residential property losses. During the aftermath of hurricanes Harvey and Irma in 2017, LaMantia was one of the adjusters from Hausch & Company that traveled to both Texas and Florida to help those in need to expedite their claims. (Read Chicago Tribune article about Hausch & Company's involvement with hurricanes Irma and Harvey). Paul has built an extensive client base that reaches out to him when challenging times occur. He is a veteran of many past events and will continue to be an invaluable resource for his clients from his new home base.
Before working for Hausch & Company, Paul was a Claims Examiner and Underwriter that handled property and automotive claims. LaMantia holds a Bachelor's Degree in Finance from Eastern Illinois University and has an Associate in Claims (AIC) designation that showcases his deep understanding of the claims industry as well as his ability to meet the challenges that confront claims professionals.
"Mr. LaMantia has been an innovator for our Company and is taking that drive, ambition, grit, and creativity to Florida to lead his own office for our company. We are certain Paul will succeed in his new venture and fully support his desire to continue to challenge himself and grow as an individual and small business leader."

"I've always believed that compassion is of the utmost importance when dealing with claims and is what sets us apart. Paul's commitment to Hausch & Company and the insurance industry over the past decade has been significant and we are proud to have him leading the new office in Boca Raton."  – David Hausch, President.
The expansion to Boca Raton allows Hausch & Company to assist new locations and further exemplifies our commitment to being where you need us, when you need us.  
---
About Hausch & Company
Hausch & Company is a premier provider of insurance services management, specializing in third-party administration and daily and catastrophe field services to the property and casualty section of the insurance market. Founded in 1948, Hausch & Company services insurance companies of all sizes in the United States and the United Kingdom. Corporate headquarters are in Elgin, IL. Hausch & Company has approximately 50 permanent, full-time employees.