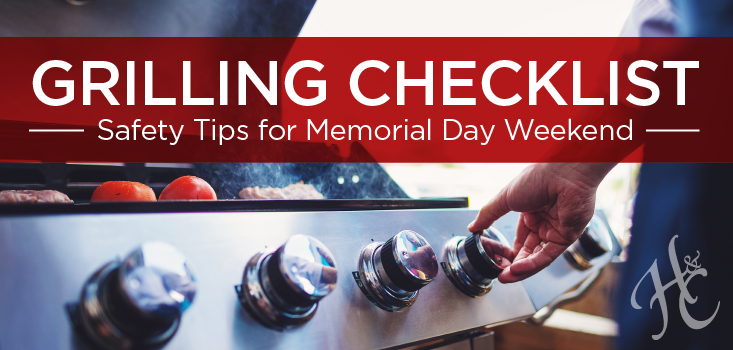 The temps are heating up, school is almost out, and summer is finally making its debut this Memorial Day weekend. While this weekend will bring people together to celebrate over food, fun and festivities, a few safety precautions will ensure that everything runs smoothly, especially if an outdoor cookout is on the agenda. 
According to the NFPA, an average of 8,900 home fires are caused by outdoor grills each year, and this weekend is one of the most popular holidays for grilling. So, if you're one of the many Americans that will be firing up the grill this Memorial Day weekend, please take a moment to view our Grilling Safety Checklist to help you have a safe and happy three-day weekend. 
Check the fuel lines before turning on the grill. Eleven percent of all grill fires are due to a fuel line leak or break.* Before using your grill for the first time this season, apply a light soap and water solution to the hose. If there is a leak, you will see bubbles and need to take appropriate action.
Clear a path. In 2016, 17% of grill fires were caused by flammable items that were too close to the grill.* This includes tree branches, hanging planters, and especially your house! The grill should be placed at least 10 feet away from your home and always keep children and pets away from the grill.
Open the lid before turning on the gas. In 2016, there were an estimated 16,900 emergency room visits due to injuries and contact burns from backyard grills.* One way to prevent this is to always open the gas grill lid before lighting it. If you don't, unlit gas fumes will collect in the cooking box, and when the lid is opened, it can cause a dangerous flare up which could result in serious burns.
Clean your grill. Not only can stuck-on char increase your risk for certain cancers if consumed, but also 19% of all grill fires are due to failure to clean the grill grates and grease pans.* Luckily, it doesn't take much to keep your grill clean. Brush the grates after each use to remove char and clean the grease pan after every few uses. A more thorough cleaning of the burners can be done 1-2 times per grilling season. 
Keep combustibles away from the grill. For people that use charcoal grills, keep lighter fluids and other combustible materials such as kerosene and gasoline away from the grill. 18% of grill fires result from a grill being too close to materials like these.* And remember to never add lighter fluid to hot coals. 
With a few safety precautions, your grill will be ready to go for the upcoming grilling season. We wish you and your family a safe and happy Memorial Day. 
---
*Source: NFPA's Home Grill Fires April 2016 report
The information provided in this article is for informational purposes only. Hausch & Company is committed to providing the most accurate data but we do not warrant the reliability of the data, and we assume no liability in connection with any of the information included.