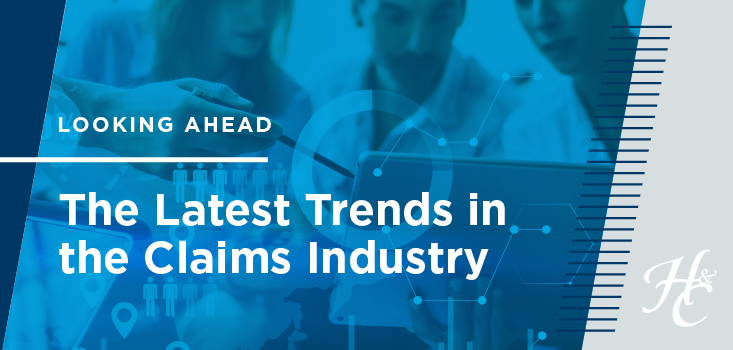 Traditionally, the insurance industry has been viewed as, well, traditional. But the progress and innovation over the past few years has paved the way for big advances and growth within the claims industry.
After a year filled with multiple devastating events such as catastrophic wildfires and hurricanes, technology and innovation are the keys to navigating the challenges that the claims industry will face in the upcoming year and companies that are focusing on this will transform their business and experience higher levels of customer engagement.
We have outlined below three main trends that are having a big impact on the claims industry in 2019.  
Revolutionized Technology
A large focus on technology is driving change in 2019 with a digital transformation and the use of predictive modeling. Companies are updating their systems as technology firms are constantly entering the market with new personalized tools and approaches that can provide more value to their clients with sophisticated data systems and advanced platforms.  
Experts are continually formulating ways to bring cutting-edge technology into the insurance industry. Through a combination of IoT (Internet of Things) technology, AI (artificial intelligence), and RPA (robotic process automation), tech companies are making strides to change the future of how claims are handled. These products are leading the way with the promise of streamlined workflow, increased productivity and an automated claims processing method.
Companies are adopting the new technology as well to gain a competitive edge and provide new opportunities for insurers to handle the claims process. According to the 2018 World Insurance Report Survey, 80% of insurers are investing or plan to invest in AI and RPA technologies in the next three years. Gartner is also predicting that 85% of customers will manage relationships with businesses without human interaction by 2020.
Being able to embrace and adapt to these new technologies allows companies to stay in line with their industries and engage with both new and existing customers.
Customer Expectations
Consumer behavior is evolving by the day as new technologies emerge that make life easier. With the growth of technological advances, customers are expecting a more sophisticated and tailored experience, including 24/7 access as well as exceptional customer service and superior usability.
In 2019, there are a projected 73 million millennials* that are going to overtake the baby boomers as the largest generation in the United States. This is a generation that is expecting companies to be as tech-savvy as they are. Millennials also value speed and convenience and are more willing to work with companies that can deliver on these promises, which includes the process of filing claims.
But let's not forget about the baby boomers. According to a Deloitte report, 57% of baby boomers prefer to use their smartphones to manage their insurance. In addition to this statistic, the EY Global Consumer Insurance Survey found that 87% of policyholders believe the claims experience impacts their decisions to remain with insurers, with speed of settlement and process transparency topping the list of the most important contributors to the customer experience.
It is no surprise that technology is taking over the way we do business and the way we work. As consumers become increasingly more tech-savvy, companies are feeling the pressure to embrace the new technologies available to offer a better customer experience.
Extreme Weather
Another challenge the claims industry will face in the future is the rise in occurrences of natural catastrophes. According to Swiss Re, global natural disasters cost $155 billion in 2018, with staggering amounts of claims resulting from Hurricanes Michael and Florence, the California wildfires, and Hawaii's volcano eruption over the past year.
2018 Natural Disaster Statistics:**
The 2018 hurricane season produced 14 tropical storms in the Atlantic region with 8 of those storms becoming Category 3 and above hurricanes.  

Hurricane Florence became the third hurricane of the season and reached a Category 4 status that resulted in insured losses ranging from $2.5 billion to $5.0 billion.

The Florida Office of Insurance Regulations reported that insured losses from Hurricane Michael had reached $4.7 billion, with about 134,700 claims made through December 21, 2018.

California Insurance Commissioner Dave Jones confirmed in early December that the total for insured losses from the California wildfires reached $9 billion in 2018.
If we've learned anything from the past few years, it is that extreme weather is on the rise across the globe. The Fourth National Climate Assessment Report released on November 23, 2018, provided a clear message that climate change is already affecting every sector and region in the US, and further warming will wreak havoc on the nation's health, lands and economy.
In addition to this, every January, the World Economic Forum publishes the Global Risks Report which suggests that experts anticipate another year of heightened risk with extreme weather events and natural disasters ranked higher than average in both the likelihood and impact over the next 10 years.
Our seventh branch office that opened in late 2018 in Boca Raton is another step we've taken to be agile and ensure that we can and will expand to new areas in order to be where you need us when you need us. Our experienced adjusters are eager to take on the challenges that come with the job and provide the best service to our customers by utilizing the latest in technology to deliver superior claims service with rapid response time.
As trends continue to emerge over the next few years, Hausch & Company is committed to evolving with the industry by leveraging advanced methods to decrease cycle times, increase responsiveness and exceed customer expectations.
We are prepared and ready to take on 2019, through thick and thin.
---
Sources:
**Insurance Information Institute