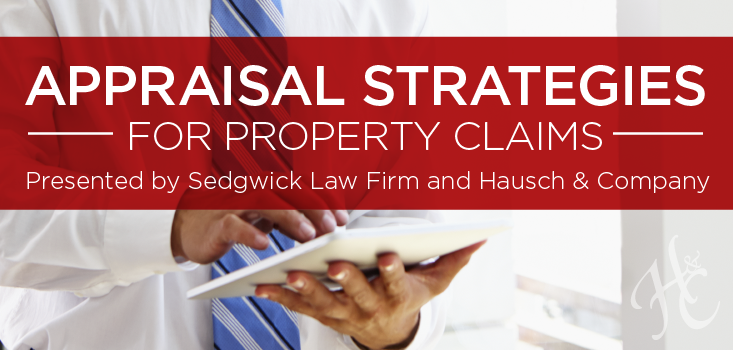 The PLRB Adjusters Conference is known for being the premier educational event for claims service providers across the nation. This year, two of the industry's top leaders came together to offer a valuable training seminar at the 2015 Central Region Conference in September. David Hausch, AIC, of Hausch & Company, and Marcos Cancio, ESQ, of Sedgwick Law Firm, gave adjusters and insurers leading strategies for property claim appraisals. The seminar, Appraisal Strategies for Property Claims, drew in almost 100 attendees across two sessions, and boasted a feedback rating of 4.4 out of 5 stars.
Together, Hausch and Cancio covered four key learning objectives:
Analyzing claim strategies to respond to appraisal requests in a variety of first party losses
Separating issues to appraise and issues to resolve by other means
Managing the appraisal process to achieve effective outcomes
Identifying options to respond to poor appraisal results
Missed the seminar? Take a look at some of the topics and best practices discussed in Appraisal Strategies for Property Claims:
Demanding/Responding to an Appraisal

Claims may be appropriate for appraisal when there is a dispute over the amount of loss. However, appraisal demands may be considered premature if the parties have not reached an It's important to know when a demand is premature, but also how to handle issues, like unreasonable delay, that may affect the appraisal response.
Best Practice Tip: The insurer may have an affirmative obligation to inform the insured of the existence of any time limitations for demanding appraisal.
Three Steps to Ensure a Successful Appraisal

Select a trusted appraiser. Receive referrals from trusted sources, like state appraisal groups or consultants.
Define the scope of appraisal and contract provisions to ensure the appraiser remains legally impartial.
Determine what the applicable law and appraisal clause requires.
The "Competency" Requirement

Ensuring that you have a competent appraiser is crucial to providing a valid appraisal. How do you determine if your appraiser is legally competent? According to a precedent set by American Union Ins. Co. v. Stull Bros. Co., a competent appraiser does not need "to rely solely on his own knowledge…but may act upon information obtained from others in an informal way." There are many rules regarding the competency of an appraiser, so make sure you know your rights to selection and objection.
Best Practice Tip: The time to attack the credentials of an appraiser, or the neutral umpire, is at the time of designation.
Managing the Appraisal Process

Effectively managing the appraisal process involves several essential steps and considerations, including: Scope of Appraisal, Causation, Procedure, and Appraisal Award. One key of success is to be aware of any issues that may arise during the appraisal process, such as: pre-existing damage, causation among several possible causes, and strategies for preventing a "split the estimates" award.
What To Do With a Poor Appraisal Award

If you've gone through the appraisal process and find yourself with an appraisal award that falls short, you do have the option to appeal. However, there are only three reasons an appraisal award may be vacated:

It was made without authority
It was the result of fraud, accident, or mistake
It did not comply with the terms of the contract

The burden of proof for an appeal is on the challenging party, so it's important to have substantial reasoning and evidence.
Want to learn more about the processes and best practices highlighted here? You can download the full Appraisal Strategies for Property Claims presentation deck. You'll receive expert insight and tips from David Hausch and Marcos Cancio, along with examples of legal cases that have established precedence in appraisal cases.