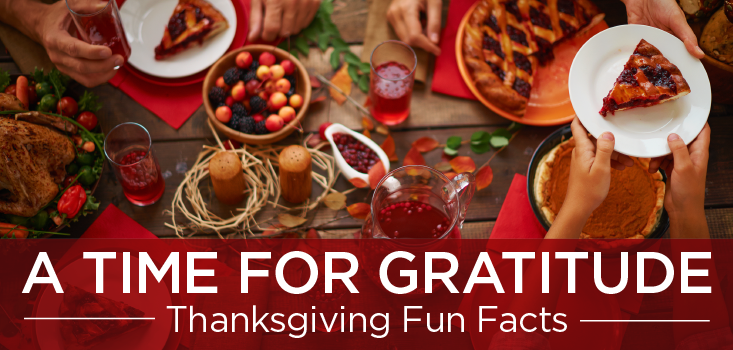 Thanksgiving: A Time for Gratitude and Celebration
As 2016 comes to a close, we want to take a moment to give thanks for the holiday season ahead. We have much to be thankful for at Hausch and Company including our loyal clients and our staff who work tirelessly to serve them. We are also extremely grateful to the men and women who boldly serve as first responders when the unexpected happens.
---
Thanksgiving Fun Facts
On November 24th, families all across the country will gather together for a Thanksgiving celebration. While the concept of Thanksgiving has greatly evolved since the "First Thanksgiving" in 1621, the focus on reflection and gratitude has remained steadfast. We put together some fun and unusual facts you may not know about this annual holiday:
In 2015, approximately 233 million turkeys were raised in the U.S., and 46 million were consumed on Thanksgiving.
Turkey consumption per capita has doubled since 1975, going from 8.3 pounds to 16 pounds.
According to the American Farm Bureau Federation, the average cost of a homemade Thanksgiving meal for 10 people was $50.11 in 2015. CNBC estimates that if you purchase your meal pre-made from a supermarket, you could expect to pay double that for 10 people.
Thanksgiving has the highest rate of home fires caused by cooking equipment. Remember to never leave your kitchen unattended while cooking to prevent any accidents or fires.
Black Friday is the busiest day of the year for plumbers because of clogged kitchen drains, garbage disposals, and toilets. According to a report by ABC News, "business on Black Friday increases 47% to 50% compared to an ordinary Friday."
The American Automobile Association (AAA) expects 48.7 million people to travel 50 miles or more this Thanksgiving, an increase of 2% over last year. Lower gas prices are encouraging more Americans to hit the road this holiday.
The Macy's Thanksgiving Day Parade actually began as the Macy's Christmas Parade in 1924 to signify the start of the Christmas season. Today, more than 3 million people attend the parade, and another 44 million watch it at home.
Brûléed pumpkin, creamed kale, and spatchcocked turkey are all recent Thanksgiving trends cited by the Food Network. What will be the trend in 2016? Google has seen a spike in searches for prime rib and corn casserole.
39% of Americans say that turkey is their most anticipated dish at Thanksgiving, followed by stuffing (23%), pumpkin pie (12%), and mashed potatoes (9%); however, Millennials are more likely to look forward to mashed potatoes rather than turkey. The Harris Poll also found that women are more likely to prefer pumpkin pie than men.
According to a survey by The Harris Poll, Americans were most thankful for "the health of their family," "their family relationships," and "because technology makes it easy to stay in touch with family and friends."
As we approach the Thanksgiving holiday, we encourage all to celebrate everything they have to be thankful for.
Sources: Huffington Post, Good Housekeeping, National Turkey Federation, CNBC, Forbes, The Weather Channel, The Harris Poll, AAA, History Channel, Digital Trends