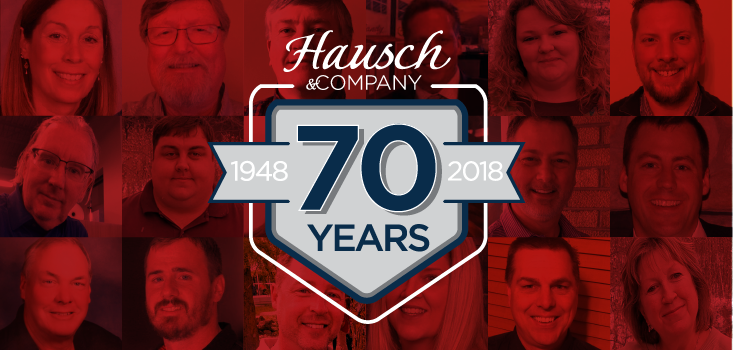 This year is a momentous one for Hausch & Company.
Recently, we talked about how thankful we are for everything Hausch & Company has been able to accomplish. The holidays and New Year typically put things in perspective and are a time to reflect on the previous year and plan for the next, but this year is a bit different. This year is significant for us as 2018 marks the 70th anniversary of Hausch & Company. It is an anniversary that makes us extremely proud and grateful that we are a part of something that has been changing lives for 70 years.
For the past seven decades, this company has stood the test of time by providing quality customized claim solutions and showing superior customer service through our willingness and dedication to be where you need us when you need us. It is this philosophy that has enabled us to expand our offices, our offerings, and our services year after year.
In 1948, Attorney Robert Winters of Rock Island, Illinois, laid the foundation of the company by creating a branch of his firm to independently adjust insurance claims. The office was located in Moline, Illinois, and served the greater Quad City area from its inception in 1948 to today. In addition, our company now boasts seven regional offices across the entire Midwest.
What began as a small company with just a few employees has grown into the Hausch & Company that we know today with a reach that expands across the country. This corporate milestone is a testament to the fact that over the years, we have never lost the focus of what has allowed us to be in business for 70 years — the constant pursuit of excellent service and the professional resolution of claims.
While our success story involves our company vision and core values, the other piece of the puzzle is the support of our employees. We truly believe that employees make the company, and we are so fortunate to have the best of the best here at Hausch & Company. We cannot thank you enough for your loyalty and your hard work day in and day out.
We are also grateful to our clients and customers who have trusted us to meet their demands, have allowed us to help them conquer their challenges, and have pushed us to keep improving our services so we can be a leader in the industry.
It truly takes a village, and to our village, we thank you!
---
About Hausch & Company
Hausch & Company is a premier provider of insurance services management, specializing in third party administration and daily and catastrophe field services to the property and casualty section of the insurance market. Founded in 1948, Hausch & Company services insurance companies of all sizes in the United States and the United Kingdom. Corporate headquarters are in Elgin, IL. Hausch & Company has approximately 50 permanent, full-time employees.