#1 – World's Largest Lit Tree
As of November 27th, the world is shining a little bit brighter thanks to a new record-setting Christmas display. David Richards of Canberra, Australia set the new record for largest display of lights on an artificial Christmas tree. According to Guinness World Records, the tree has 518,838 lights and is topped with an almost 5-foot-tall star. Richards is known in his local town as "Christmas Lights Man" and he's no stranger to Christmas related records. He has previously set the Guinness World Records titles for the "Largest image made of LED lights" and "Most Christmas lights on a residential property".
#2

– Most Popular Christmas Movies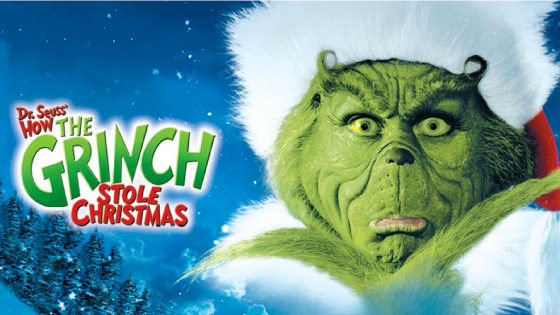 Nothing will get you in the holiday spirit quite like a Christmas movie. From funny to sentimental, there really is something for everyone. These movies still manage to be huge successes, even though they have relatively short lives in the box office. According to Investopedia, here are the top five highest grossing Christmas movies of all-time:
How the Grinch Stole Christmas (2000)- $260,044,825

The Polar Express (2004)- $183,155,888

Elf (2003)- $173,389,518

The Santa Claus (1994)- $144,833,357

A Christmas Carol (2009)- $137,855,863
You may notice that some classics like "It's a Wonderful Life" and "A Christmas Story" didn't make the list. Although these movies are considered enduring holiday classics, they weren't big box office smashes.
In the mood for a festive flick? Check out ABC Family's 25 Days of Christmas line-up: bit.ly/ABCFamily25DaysXmas
#3

– Letters from Santa.
Yes, there is a Santa Claus. And the Postal Service helped prove it for thousands of children — complete with the North Pole Postmark! As long as "Letters from Santa" were received by the Anchorage, AK Postmaster by December 15th, Santa's helpers were there to respond. If you didn't get yours there in time this year, see below for next year. And, there's still time to have Santa send an email to your child. You can receive a letter or video response back, visit emailsanta.com.
Here's how to have a Letter from Santa from the North Pole:

Write a personalized letter to a child from Santa Claus and sign it "From Santa."

Insert the letter into an envelope and address it to the child.

Add the return address: 'SANTA, NORTH POLE' to the envelope.

Ensure a First-Class Mail stamp is affixed to the envelope.

Place the complete envelope into a larger envelope, with appropriate postage, and address it to:
NORTH POLE POSTMARK POSTMASTER
4141 POSTMARK DRIVE ANCHORAGE, AK 99530-9998
#4

– Warm & Bright.
Candles, light strands, and fireplaces can all be great sources of light and heat during the winter season. Unfortunately, they can also be the biggest threat of home fires. According to the Red Cross, almost 47,000 fires will occur during the winter holidays and cause more than $547 million in property damage. We've compiled a few safety tips to help keep you and your family safe and claim-free this holiday season:
Keep all decorations at least three feet from heat sources like fireplaces and heaters. Did you know that nearly half of decoration fires happen because decorations are placed too close to a heat source (NFPA.org)?
If you purchase a real Christmas tree, select one with needles that aren't easily broken and give it plenty of water to keep it from drying out.

Pick one family member to be in charge of ensuring all candles & fires are extinguished and light strands are unplugged before leaving the house.
View the video from NFPA for additional reminders on how to deck the halls safely this holiday season.
#5

– Hoverboard Craze
Hoverboards are one of the hottest selling items for Christmas this year. But you may not want to run out and buy one just yet. The Consumer Products Safety Commission is receiving an increasing number of complaints about Hoverboards because of fire and injury. Cities are putting usage restrictions on them and major airlines are banning them from planes because of their fire risk. So before you put this gift under your tree for a loved one, think twice about it's safety risks. View recent news report here:
#6

– Pet Safety During the Holidays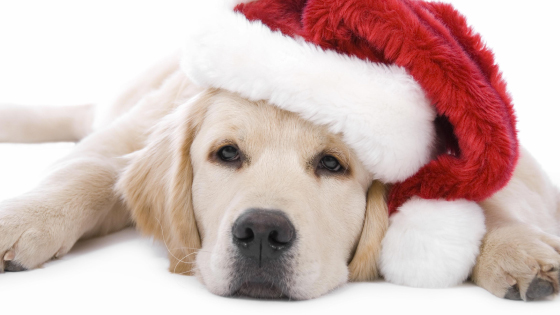 Furry family members, like dogs and cats, are often involved in the family festivities. Holiday decorations and activities can pose some abnormal obstacles for your pet's safety. The best thing you can do for your pet during the holiday season is to keep them as close to their normal routine as possible, besides giving them a new toy in their stocking, of course.
Here are a few other tips from the ASPCA to keep Fido happy and healthy this holiday season:
Opt for artificial decorative plants. Live plants like mistletoe and holly can cause digestive issues for both cats and dogs.
Keep food out of reach. Holiday food smells and tastes great to humans, but can often cause major problems for pets. Things like chocolate, artificial sweeteners, and garlic are definite no-no's.
Give them space. Pets all react differently to new people coming over. If your pet is shy, give them an area like a room or crate to hide out from newcomers and large crowds.
For more safety tips during the holiday from ASPCA, visit: bit.ly/ASPCAholidaysafety
#7

– PNC Christmas Price Index
We've all heard the song "The Twelve Days of Christmas." Have you ever wondered what those 12 gifts would cost if you were to buy them today? PNC Bank's "Christmas Price Index" shows the current cost for each set of gifts from the song and the total cost would add up to $34,130.99. Seven Swans-a-Swimming remains the biggest splurge, with a cost of $13,125. And, Three French Hens are the most budget-friendly gift, with a price tag of $181.50.
Visit PNC's online Gingerbread Branch for fun interactive stats and info: bit.ly/PNCXmasPriceIndex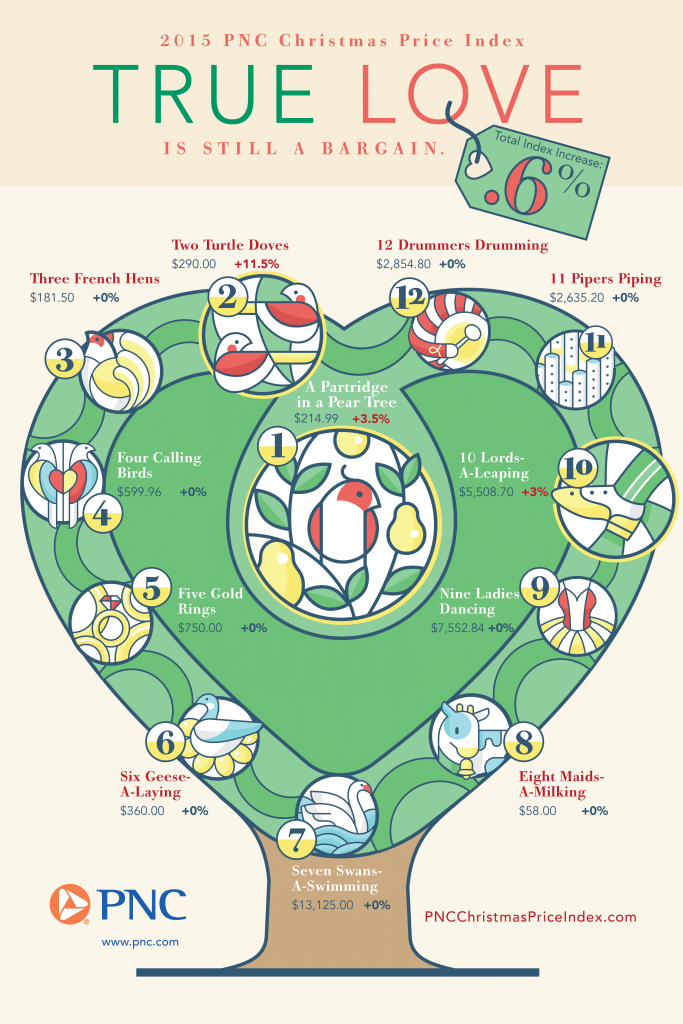 #8

– World's Largest Gingerbread House
The Guinness World Record was broke in 2013 when the community of Bryan, Texas was determined to construct the largest gingerbread house to help raise money for a local hospital. The 60-foot by 42-foot structure had an entire exterior made of gingerbread and icing and measured up to 20 feet tall. 1,800 pounds of butter, 7,200 eggs, 7,200 pounds of flour and close to 3,000 pounds of brown sugar were used. And, over 22,000 pieces of candy were attached to the outside, making it a 36 million-calorie home! View how it was created:
#9

–

Slice Up the Fruitcake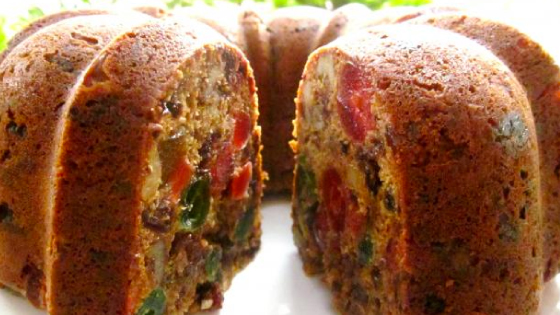 Fruitcake might be considered one of the most unwelcomed holiday gifts, but it has a notable place in history. Fruitcake has been served at many British Royalty weddings, including that of Prince Charles and Princess Diana and the crew of Apollo 11 brought a pineapple fruitcake along with them on their mission to the moon. Today, the two towns of Claxton, Georgia and Corsicana, Texas are currently vying for the title of "Fruitcake Capital of the World." On the hunt for a fruitcake recipe that actually tastes good? Visit: bit.ly/FruitcakeRecipe
#10

–

A Greener Christmas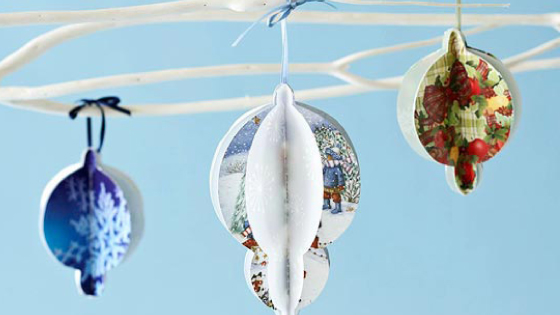 With all of the wonderful holiday presents and decorations comes lots of trash. In fact, household waste increases by 25 percent between Thanksgiving and New Year's Day. The trash from wrapping supplies and shopping bags alone adds up to 4 million tons! Check out some fun and creative ways to do your part and recycle those holiday cards: bit.ly/RecycledXmasCards
#11

– Candy Canes All Year Long!
The History Channel reports that the first candy cane was made in 1670 by a choir master in Germany. He gave children white sugar candy bent to resemble a shepherd's crook to help them stay quiet during services. In the early 20th century, American confectioners improved upon it by adding peppermint and the red swirl. Each year about 1.76 billion candy canes are made and 90% of candy canes are sold between Thanksgiving and Christmas. Watch how they get made here:
#12

– A Holiday "Claim" From Hausch & Company

We wish you a very Happy Holiday season and a safe and prosperous New Year. Issued by your friends at Hausch & Company.